This isn't your dad's traditional media...
Traditional media has evolved. It's not just about the 6p news or drive time on radio. People have more ways than ever to consume media. We're often asked, "Which is the best option: traditional media or digital media?" The answer: Both.
MJS Advertising's team of integrated media specialists will analyze your market to make recommendations that address your company's goals utilizing the platforms that will be most successful in your unique market.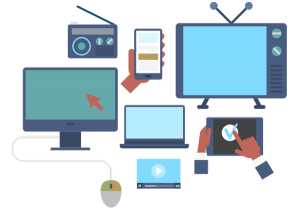 Integrated Media Plans use a multi-channel approach, with consistent interactions and messages across multiple channels.
TV, Connected TV, Cable, Radio, and Streaming Radio can provide both long term branding and call-to-action instant response, depending on where the consumer is in the buying process.
AutoFlyte

Triton Digital

Dominion Cross-Sell

Google Partner

Kantar Media

Freewheel

Nielsen

SQAD

Google Analytics

iab
On day one, the MJS team starts planning. That begins with a deep dive into the demographic makeup of your market to devise a measurable media strategy. We invest in numerous data resource companies to ensure our information is complete and current. We use that information to customize a plan for every situation.
Then there's the negotiating. With national media buying experience, we can bring big market perspective to small markets and small market perspective to larger markets. The MJS team of integrated marketing specialists is skilled in the art of negotiating while cultivating partnerships that make vendors WANT to do more for our clients.
Once a buy is placed, measurement and tracking of the campaigns are watched carefully. The reporting is as important as the execution. Our approach is not "wash-rinse-repeat". We continuously analyze the campaign and make necessary tweaks to keep up with the constantly changing environment.
What sets MJS apart is our transparency and ability to get you the most for your advertising investment.
fun fact.
Coca-Cola cleans chalkboard walls better than any other substance